Lip fillers Buckinghamshire
Are you looking for a way to plump up thin lips without the need for surgery? Lip fillers in Buckinghamshire can help by adding volume and definition to your lips, giving you a more youthful look.
Lip fillers or dermal fillers are a safe and effective way to get natural-looking, fuller lips. They can also help to reduce wrinkles around your mouth and correct asymmetry. 
At the Dr Grace Kelly Aesthetic Skin Clinic in Buckinghamshire, our team of experienced professionals can help you get the look you want. We work with you to help you understand more about dermal filler treatment and the results you can expect to see from it. 
Our expert practitioners will develop a bespoke lip filler treatment plan that is based on your facial structure and skin type. We want you to feel comfortable and confident in your treatment with us, so that you not only look your best but feel your best too. 
What is lip enhancement treatment?
You may have heard of the term lip augmentation before. This includes the different lip enhancement treatments available. They can require surgery such as a fat graft, lip implants or a lip lift. Whereas others are non-surgical, which include lip filler injections.
Lip fillers are becoming increasingly popular because they instantly plump your lips, giving you a fuller and more balanced look. They are a go-to treatment for people with thin lips as they can be customised to ensure your lips look natural. What's more, there is little to no recovery time.
What are dermal fillers?
Dermal fillers are a type of cosmetic treatment that helps to reduce the appearance of fine lines and wrinkles on the face. They are also an effective treatment for areas where there is a loss in volume or fullness, such as around the eyes, cheeks and lips.
Lip filler treatments use dermal filler to enhance the look of your lips, restore lost volume or plump up lips that have always been thin. While dermal fillers only provide temporary results, the effects of your lip filler treatment can last for up to six months.
Hyaluronic acid fillers
At the Dr Grace Kelly Aesthetic Skin Clinic, we use hyaluronic acid fillers for our lip filler treatments.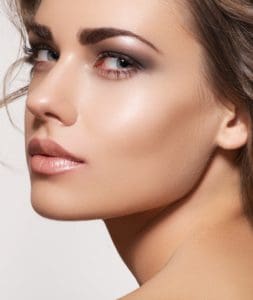 Hyaluronic acid is a naturally occurring substance found in your body. It is crucial to helping us maintain healthy-looking skin. It also helps to hydrate, plump and keep our skin looking younger. This is why so many products and treatments use it to help reduce the visible signs of ageing such as thin skin and fine lines and wrinkles. 
We use hyaluronic acid fillers to help replace lost volume in various areas of the face. Our lip filler treatments create fuller lips that have more shape and definition. They can also add moisture to your lips to reduce lip lines.
As an added bonus, lip fillers can also increase collagen production in your lips. Collagen helps to give your lips their structure and shape, keeping them stronger and more flexible. 
Why should I consider lip filler treatment?
Help to add volume and plump your lips

Enhances your facial features

Give your more shapely lips

Reduce lip lines

Soften fine lines around the mouth including marionette lines

Non-invasive treatment that requires very little downtime
What happens during lip filler treatments in Buckinghamshire?
Before you have lip fillers, you will need an in-depth consultation with one of our expert practitioners. 
At Dr Grace Kelly Aesthetic Skin Clinic in Buckinghamshire, we will take the time to look at your medical history and give you a facial assessment. We will also talk you through dermal filler treatment and what results you can expect to achieve. This is where we will develop a bespoke treatment plan.
Once you are happy to go ahead with your lip fillers, the treatment starts by applying a numbing cream to the lip area. This helps to reduce any discomfort you might feel. The treatment should take around 30 minutes to complete. 
Small amounts of dermal filler will be injected into the chosen areas of your lips to create more structure and add volume. This is done with a fine needle. Your doctor or practitioner will massage your lips after treatment. This helps to ensure a smooth and even distribution of the lip filler.
What results can I expect?
Your lip filler treatment will provide instant results. You can expect to see swelling for up to 48 hours. This is completely normal. 
Your dermal filler results can last for up to 6 months. At this point, the filler is your body will break down the filler naturally. To maintain your results will advise you to come in for top-up appointments at around the six-month mark.
Choose the experts in lip fillers and dermal filler treatment
Dr Grace Kelly Aesthetic Skin Clinic in Buckinghamshire provides high-quality aesthetic treatments to help our patients look and feel their best.
With a team of experienced professionals, the Buckinghamshire clinic offers a wide range of treatments such as laser hair removal, dermal fillers, and many more. The clinic also provides advice on skincare and lifestyle choices to help people maintain healthy skin. 
We strive to provide our patients with the best possible results. This is why we offer personalised consultations where we can help you find the right type of filler for you and provide you with advice on how to care for your lips after treatment. We are here to make sure your treatment makes you feel like the best version of yourself. 
Our dermal filler clinic in Buckinghamshire 
You can find our clinic in Chalfont St. Peters, Gerrards Cross. We have plenty of parking spaces next to the clinic if you are travelling by car. 
Address
3 Church Lane House
Church Lane
Chalfont St Peter
Gerrards Cross
Buckinghamshire
SL9 9RE
Tel: 01753 888 282
Email: info@drgracekelly.co.uk
About Buckinghamshire
Buckinghamshire is a county located in South East England. It is home to many historical towns and villages, such as Marlow, Beaconsfield and High Wycombe. 
Buckinghamshire is known for its beautiful countryside and villages. It is also home to many attractions such as Waddesdon Manor and Cliveden House. Buckinghamshire's rich history including Stowe House and the Roald Dahl Museum makes it a great place to live and visit.
Return home