Cheek Fillers Buckinghamshire
Add volume to sunken cheeks and give your face more definition with cheek fillers in Buckinghamshire.
Dermal filler treatment is a popular way to reduce facial lines and wrinkles, which helps you give a more youthful look. Dermal filler injections not only replace lost volume in your cheeks but help to create more symmetry in the face. 
At the Dr Grace Kelly Aesthetic Skin Clinic in Buckinghamshire, we provide tailored cheek filler treatments to meet your individual needs. Our experienced team of practitioners will take the time to understand your skin type, facial structure and skin goals.  From this, they will develop a bespoke treatment plan that will give you the best results. 
We only use the highest quality dermal fillers for our treatments and perform them with the utmost care and precision. This helps us provide patients with natural-looking results that make them look and feel good. 
What are dermal fillers?
Dermal fillers are a cosmetic treatment that helps to add volume to the lips, cheeks, under-eye area and jawline. They are an injectable treatment that consists of a soft gel substance that contains hyaluronic acid. 
At Dr Grace Kelly Aesthetic Skin Clinic, we use Hyaluronic acid fillers at different points of the face to help reduce lines and wrinkles. We use tailored amounts to give your face more symmetry and structure. After your treatment, you will look brighter and give you glowing skin. 
How hyaluronic acid helps your skin
Hyaluronic acid (HA) is a natural substance found in our body that helps to hydrate and plump our skin. As we start to age, our skin produces less hyaluronic acid which is why we start to see thin, dry skin and wrinkles start to appear.
Because our dermal fillers have hyaluronic acid as their key ingredient, they help to restore volume and shape to your skin. This helps your skin look healthy and fresh.
The benefits of cheek fillers in Buckinghamshire
Cheek fillers can help you look younger without the need for surgery or downtime. We are seeing more and more patients having dermal filler treatment to help with:
      Smoothing out deep lines and wrinkles

      Creating more shape and adding definition to the cheeks

      Reducing mouth lines (marionette lines)

      Providing subtle contouring effects to the cheekbones

      Achieving more defined jaw line

      Refining skin texture
How do cheek filler treatments work?
Your treatment journey will start with an initial consultation. You will meet with one of our fully trained doctors or practitioners and we will get to know you more. We will look at your skin condition and discuss what you are hoping to achieve from dermal filler treatment. It's also a chance for you to share any questions or concerns you might have.
During your treatment, we will first apply a local anaesthetic numbing cream to the area to keep any discomfort to a minimum. Your practitioner will check on you throughout your treatment to ensure you are feeling happy and comfortable.
The procedure involves injecting the dermal filler substance into the skin. This helps to restore lost volume by plumping up these areas. Your practitioner will inject at specific points in your face to create the right shape and balance for your facial structure. 
After dermal filler treatment, you may see swelling for 1-2 days and bruising for the first few days. This is completely normal and will go down. We will provide aftercare advice so you can get the most out of your results. This will include avoiding applying any pressure on your face or strenuous physical activity for the first 48 hours. 
Your cheek filler treatment results should last up to six months. At this point, you will need to return for a top-up appointment. 
Choosing the right specialist for your treatment in Buckinghamshire
Dr Grace Kelly Aesthetic Skin Clinic in Buckinghamshire is a leading provider of aesthetic skin care services. We are a team of experienced and qualified professionals who commit to providing the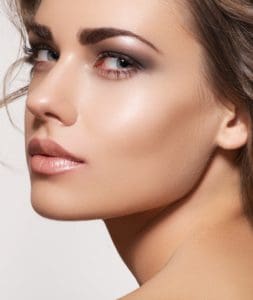 highest quality treatments to help you look your best.  
We help our patients achieve their skin goals by finding the right treatments for their skin type and skin concerns. We provide personalised advice so that we can deliver the best patient care. From the moment you enter our clinic to your aftercare, our team will support you throughout your time with us. 
Finding our skin clinic in Buckinghamshire
You can find our clinic in Chalfont St. Peters, Gerrards Cross. We have plenty of parking spaces next to the clinic if you are travelling by car. 
Address
3 Church Lane House
Church Lane
Chalfont St Peter
Gerrards Cross
Buckinghamshire
SL9 9RE
Tel: 01753 888 282
Email: info@drgracekelly.co.uk
About Buckinghamshire
Buckinghamshire is a county in the South East of England, located between London and Oxford. It is a beautiful and diverse area, with a rich history and culture that dates back centuries. 
It is near London, which makes Buckinghamshire a great location for anyone commuting for work. The county also boasts some of the best restaurants and pubs in England, which draws in locals and tourists alike. 
Return home